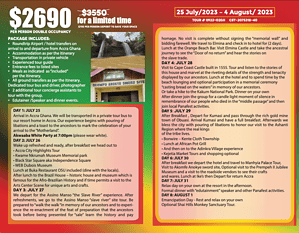 Ubuntu Ghana:
VIP History Education and Culture Tour in Ghana
Join us on an 11-day tour that includes visits to W.E.B Du Bois Museum and Cape Coast Castle; a hike through Kakum National Park; pass through the rich gold mine town of Obuasi, travel to Manhyia Palace Tour, take part in Emancipation Day and the Sabbath City Blessing Tour, including a visit to a learning center built by the Apostle Philemon Okoh Agyemang, and wind down with a spa day at Labadi Beach (spa treatment included.)
EXPERIENCE
Tour over 15 locations in and outside the city of Accra, Ghana. Each day will include an itinerary, meals, a dedicated photographer, and much more.
ACCOMMODATIONS
We will be transported in a private tour bus to our resort home in Accra. The home resort has modern amenities, meals, and concierge assistants to tour with the group.
TOURIST LOCATIONS
Kwame Nkrumah Museum, Assino Manso "slave river" site tour, Cape Coast Castle, Kakum National Park, the rich goal mine town of Obuasi, and much more.
DAY 1: JULY 25
Arrival in Accra, Ghana. We will be transported in a private tour bus to our resort home in Accra. Our experience begins with a pouring of
libations and a toast to the ancestors to mark the celebration of your arrival to the "Motherland." Akwaaba White Party at 7:00 pm (please wear white).
DAY 2: JULY 26
Wake up refreshed and ready, after breakfast we head out to Accra City Highlights Tour • Kwame Nkrumah Museum Memorial park Black Star Square aka Independence Square W.E.B Du Bois Museum; Lunch at Buka Restaurant OSU included (dine with the locals). After lunch, to the Brazil House – a historic house and museum which is famous for Afro-Brazilian History and, if time permits, a visit to the Arts Center Scene for unique arts and crafts.
DAY 3: JULY 27
We depart for the Assino Manso "the Slave River" experience. After refreshments, we go to the Assino Manso "slave river" site tour. Be
prepared to "walk the walk "in memory of our ancestors, and to experience the re-enactment of the feat of preparation that the ancestors took before being presented for "sale." Learn the history and pay homage.
DAY 4: JULY 28
Visit Cape Coast Castle, built in 1555. Tour and listen to the stories of this house and marvel at the riveting details of the strength and tenacity displayed by our ancestors. Lunch at the hotel and to spend time by the beach lounging and optional participation in a memorial ceremony, "casting bread on the waters" in memory of our ancestors. Or take a hike to the Kakum National Park. Dinner on your own. After dinner, join the group for a candlelight moment of silence in
remembrance of our people who died in the "middle passage" and then join local Panafest activities.
DAY 5: JULY 29
After Breakfast, Depart for Kumasi and pass through the rich gold mine
town of Obuasi. Arrive at Kumasi and have a full breakfast. Afterward, we bless the city with the pouring of libations to honor our visit to the Ashanti Region, where the real kings of the tribe live.
• Bonwire – Kente Cloth Township Lunch at African Pot Grill
• And then on to the Adinkra Village experience Kejetia Market Tours and shopping optional.
DAY 6: JULY 30
After breakfast, we depart the hotel and travel to Manhyia Palace Tour, Visit Akomfe Anokye sword site, Optional visit the Prempeh II Jubilee Museum and visit to the roadside vendors to see their crafts and wares. Lunch at Ike's, then Depart for return to Accra.
DAY 7: JULY 31
Relax day on your own at the resort in the afternoon. Formal dinner with "edutainment" speaker and other Panafest activities.
DAY 8: AUGUST 1
Emancipation Day – Rest and relax on your own. Optional Shai Hills Monkey Sanctuary Tour.
DAY 9: AUGUST 2
Sabbath City blessing Tour ** wear African-inspired clothing Monumental sanctuaries and learning center built by the Apostle Philemon Okoh Agyemang. Visit the music studio to meet & greet the people. Donations of books or any other articles may be donated to the school at this time. Africa Village Farewell Celebration & Dinner.
DAY 10: AUGST 3
After breakfast, wind down with the Spa day at Labadi Beach (your spa treatment is included). Rest and relax and rehydrate on the beach with fresh coconut water.
DAY 11: AUGUST 4
Check out of hotel and Depart for USA Farewell Ghana